Spain and Morocco / 16 Days

MADRID . CORDOBA . SEVILLE . RONDA . COSTA DEL SOL .FEZ . MEKNES . MARRAKESH . RABAT . TANGER . COSTA DEL SOL . GRANADA . MADRID
Every Friday


DAY 01

Depart USA. meals, drinks and in-flight entertainment included

DAY 02

Arrive Madrid .transfer by Global Gate Vacations to your hotel

DAY 03

After breakfast , depart. from Madrid towards the land of DON QUIXOTE (the man from la mancha) ,reach Cordoba -lunch- city tour visiting the Mosque of the Caliphs and the medieval synagogue , the jewish quarter , continue to seville . evening free at leisure to explore the city of alquivir river . DINNER at hotel. (BLD)

DAY 04

After breakfast , enjoy a morning city tour visiting the Colombus tomb , the bell tower , weather vane of Giralda , fountains of Maria Louisa park , the cathedral , the Santa Cruz quarter , afternoon free at leisure to discover exclusive views , specific flavours of the full of lights city.DINNER at your hotel . (B D )

DAY 05

After breakfast, depart. to Ronda ,time at leisure to admire this town of Celtic origin and the marvellous view of the valley and mountain range ,lunch in a local restaurant ,continue to Costa Del Sol . check-in at hotel , Dinner (BLD)

DAY 06

After breakfast , depart. along Costa del Sol to Algeciras to board the ferry boat to Morocco coast .Continue to FEZ .Arrival Dinner at hotel (B D )

DAY 07

After breakfast , city tour in FEZ (the most ancient city of the imperial cities of Morocco) . in the afternoon enjoy an excursion to Meknes. Return to hotel in FEZ . Dinner ( B D )

DAY 08

After breakfast , depart. via Ifran towards MARRAKESH the palm tree oases at the sahara . Dinner at your hotel ( B D )

DAY 09

After breakfast , enjoy a city tour starting with Bahia Palace then we stop at vast Djemma Square with its palm readers , acrobats camels , markets , ... free time at leisure in the souks and bazaars. Dinner at your hotel ( B D )

DAY 10

After breakfast , depart. MARRAKESH to Casablanca .Arrival panoramic sightseeing in the economic capital of the Kingdom afternoon , free at leisure.Dinner at your hotel ( B D )

DAY 11

After breakfast , depart to Rabat -along the atlantic coast- the nation's capital and official residence of King Hassan II , will visit the most important sites in the city royal palace , mausoleum then on to Tanger - a brief panoramic orientation tour of the city highlights.Dinner at your hotel ( B D )

DAY 12

After breakfast , depart by ferry boat back to spain -Costa Del Sol . Arrival in Costa Del Sol .free time at leisure , enjoy Malaga and torremolinos on your own .Dinner at your hotel ( B D )

DAY 13

After breakfast , free morning at leisure , departure to Granada. Arrival in Granada .Dinner at your hotel ( B D )

DAY 14

After breakfast , enjoy sightseeing visit to Alhambra Palace and gardens of Generalife , the lion court , the exotic water gardens of the Generalife , the Royal Summer Residence (an amazing monumental environment is waiting for you) , depart. to Madrid , lunch on the way arrive Madrid . check-in your hotel. (BL)

DAY 15

After breakfast , enjoy a guided sightseeing tour to Gran Via , Passeo De La Castellana , the Cervantes monument at the Plaza D'espagna , Puerta Del Sol and Cibeles fountain , proceed to EL PRADO museum where you will admire the paintings of VELAZQUEZ, return to your hotel.evening free at leisure to explore the Madrileno night life in plazas (del sol,santaanna,...) (B)

DAY 16

After breakfast, free time at leisure , transfer by Global Gate Vacations to airport for your homebound flight arrives the same day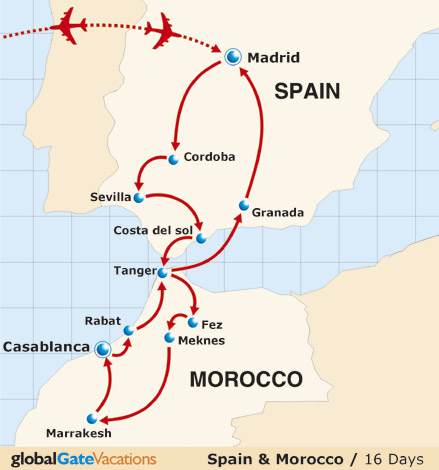 TOUR FEATURES

Scheduled transatlantic flight (from and to NYC)

(for supplements from other US gateways , please refer to our reservation department

Accommodation at hotels (meals as per itinerary)

All transfers

Included sightseeing as per itinerary

Professional tour directors to escort you

NOT INCLUDED

Airport taxes and September 11th security fees

2006 . SPAIN AND MOROCCO 16 DAYS

STARTS

ENDS

TOURIST CLASS

FIRST CLASS

land only

air&land

land only

air&land

MAR 11

APR 29

1495

1995

1845

2395

MAY 06

JUL 01

1595

2195

1995

2545

JUL 08

SEP 02

1595

2292

2095

2795

SEP 09

DEC 09

1695

2195

1995

2595

DEC 16

DEC 23

1595

2295

1895

2495

2011 . SPAIN AND MOROCCO 16 DAYS

STARTS

ENDS

TOURIST CLASS

FIRST CLASS

land only

air&land

land only

air&land

DEC 30

JAN 06 (2006)

1655

2255

1955

2655

JAN 13

MAR 10

1595

2195

1895

2445

Hotels
Madrid Mayorazgo , Tryp Ambassador
Sevilla Don Paco , Hesperia
Costa Del Sol Villasol , Cervantes
Fez Menzeh Zalagh , Sheraton
Marrakesh Atlas Marrakesh , Atlas Medina
Casablanca Les Almohandes , Holiday Inn
Tanger Les Almohandes , Les Almohandes
Granada Luna Arabial , San Anton

About us . Destinations . Hot deals . Travel Agents . FAQ
References . Hotels . Terms & Conditions . Contact us



Madrid is an excellent example of the combination of past and present. The capital of Spain since medieval times, Madrid blends the city's historical sites with the lifestyle of a modern metropolis. During the day Madrid is a center of culture and history, while at night the atmosphere changes to a relaxed tone. Whether you are visiting the Royal Palace or having a late night at a disco, something fascinating awaits you in Madrid.
The region of Costa del Sol, located on Spain's southern coast, is home to extravagant beach resorts, quaint country villages, ancient monuments and rolling farmland. One of Spain's most treasured regions, people flock here for the warm sun, long beaches and old-world charm. Whether relaxing by the water, exploring ancient ruins or dancing the night away, Costa del Sol makes all her visitors feel alive.
Well-known for the Moorish Alhambra Palace, Granada is also home to the ancient Albaicin fortress and the famous Cathedral Quarter. With an air of mystery and romance, Granada offers the wonder of its historic monuments and charm of an old-world city.
Founded by the Romans, Cordoba became the capital of Moorish Spain and was later ruled by Christian kings. During the Middle Ages it was one of the most important cities in all of Europe. Today you can still see the Great Mosque and Cathedral, the Alcazar Castle and the Palace. And after a day of sightseeing, you can stroll down the narrow streets of the medieval Jewish Quarter or enjoy a Flamenco dinner show. Cordoba offers a great deal of enchantment to its visitors.
MARRAKESH, one of Morocco's Imperial Cities, is known as the "Pearl of the South". Once the kingdom's capital under several dynasties, the city gave the country its name. Almost ten centuries old, it offers fabulous architecture, lush gardens, and a timeless culture. Whether sightseeing at the El Badii Palace, bargaining with the Red City's shopkeepers or trekking to the nearby Atlas Mountains, MARRAKESH offers a truly unique experience.
One of the oldest and largest medieval cities in the world, Fez is Morocco's center of culture and religion. The old sections of town have changed very little over the centuries. The city is home to the famous Karaoine Mosque, the Nejjarine Fountain and the historic medina, with traditional architecture and an old-fashioned way of life. One of the most-loved cities in Morocco, Fez will leave a lasting impression on all of its visitors.